Labor shortages in rural Kansas are not new, and they're not limited to any sector. The lack of workers in careers requiring advanced degrees is well documented for professionals like lawyers and doctors, but the scarcity extends throughout the workforce from skilled trades to front-line workers.
In Kansas, this trend extends to veterinarians even though cattle outnumber people by a margin of more than 2 to 1, let alone all the other livestock and pets in the state. Like nearly every other aspect of rural life, the workload exceeds the number of workers available. Nearly 60 percent of Kansans involved in agriculture reported they perceived a shortage of veterinarians.
The Kansas Legislature created the Veterinary Training Program for Rural Kansas (VTPRK) in 2006 in an effort to encourage more vets to establish or join practices in rural communities. In the beginning, the program provided $20,000 per year in loans for up to five students enrolled at Kansas State University's College of Veterinary Medicine. Recipients' loans were forgiven based on a four-year term working in an underserved community for a total of $80,000.
In 2022, legislators expanded the VTPRK to include loans totaling $100,000 over four years for up to seven students each year. Kansas Farm Bureau, other agricultural organizations and K-State officials pushed for the expansion during the legislative session. The money helps students cover tuition and other school-related expenses. The average veterinarian graduates with more than $140,000 in debt with an expected first-year salary of a little over half that amount.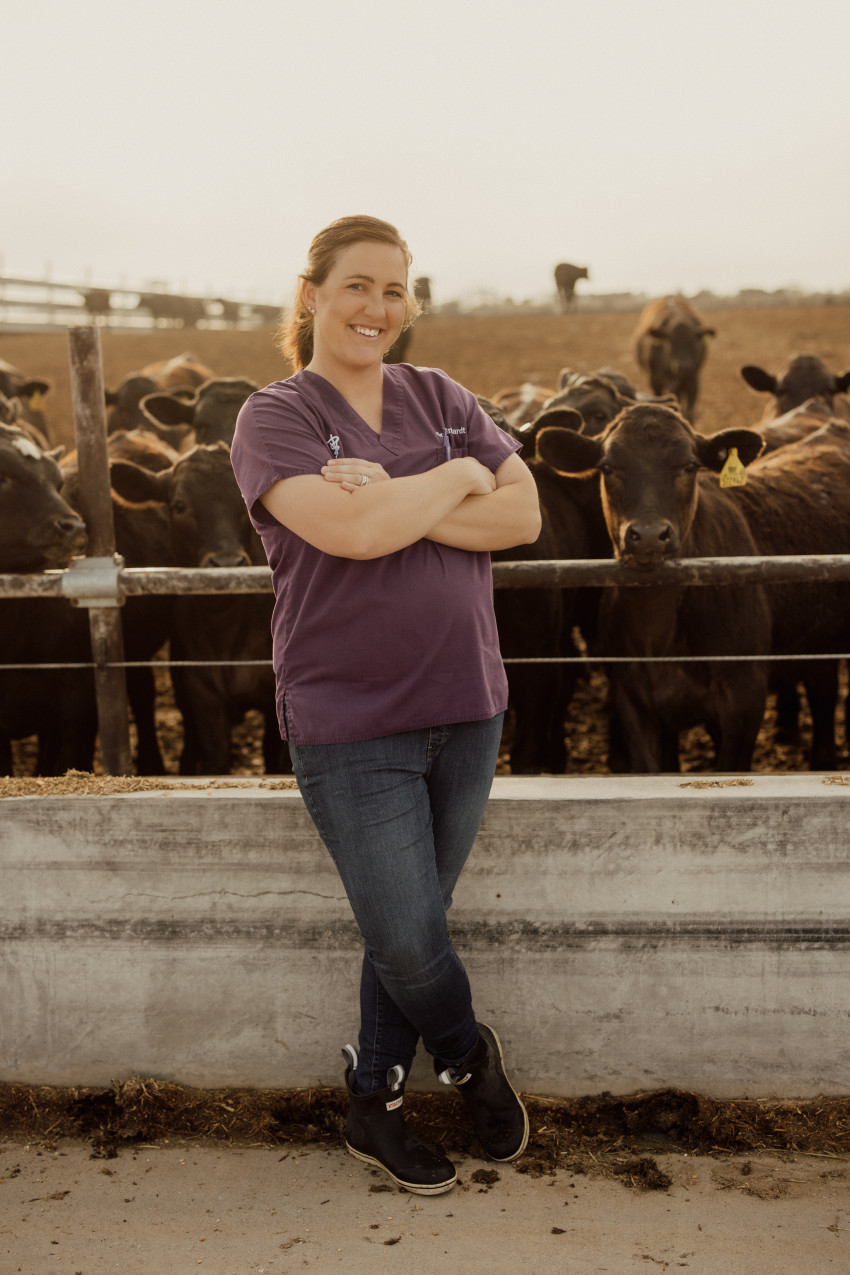 EASIER TRANSITION
The VTPRK is designed for people like Tera Barnhardt who grew up in Southwest Kansas near Satanta before coming to K-State for her undergraduate degree, then enrolled in vet school. When she graduated about a decade ago, the loan forgiveness helped Barnhardt and her husband move to Johnson City, a town of about 1,500 that's 15 miles from Colorado and less than 40 from Oklahoma.
"I'm thankful for VTPRK because it gave us the financial stability to be able to return home," Barnhardt says. "It made it very feasible for us to buy a home and get involved in the community. I had the financial freedom to explore after graduation."
Barnhardt began her career at a mixed-animal practice that treated large animals like cattle and horses alongside pets like cats and dogs. She now has her own practice focused on beef and dairy cattle, which was always her dream.
"I was somewhat afraid to just jump into feed yard work and not have a background of knowing I could open a clinic if things didn't work out," she says.
Without the scholarship, Barnhardt says she and her husband would have likely taken a different path, partly because of higher earning potential for her and partly out of convenience.
"At the time, my husband was building houses and owned a construction company in Manhattan, and it would have been really easy for us to just stay in that lane," she says. "We would never have returned home."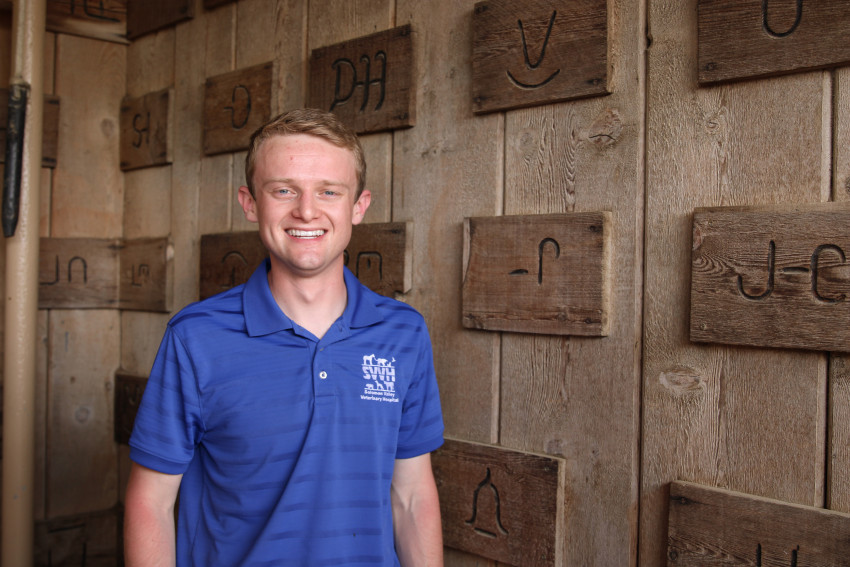 STABILITY IN SCHOOL
Chance Kopsa didn't grow up involved in production agriculture, but he participated in FFA in high school and also had a part-time job at Solomon Valley Vet Hospital in Beloit that led him to pursue veterinary medicine at K-State. He is one of seven members of the most recent cohort of VTPRK recipients, the largest class ever thanks to the recent expansion.
"I knew this program was something I wanted to apply for because it helps so much with financial stability," Kopsa says. "I knew I wanted to stay in rural Kansas already, so it was a win, win."
Kopsa says he'd like his career to be like his experience at the Beloit clinic, a mixed-animal practice where the pay is better than a large-animal exclusive practice. Neither of those is the best paying, however.
"It's more lucrative to have a small-animal practice in a metro area," he says. "When an urban clinic can offer a $100,000 signing bonus, that looks pretty good compared to the debt graduating students carry."
OTHER OPTIONS
About one in four K-State Vet Med graduates enter a large- or mixed-animal practice after graduating, which is higher than the national rate of just under 15 percent nationally, while another 44 percent end up in a companion animal practice. But a degree in veterinary medicine opens more doors than starting a practice or working in one.
Roughly 40 percent of graduates nationally take other paths, which can vary from continuing their education, becoming an instructor at a college or university or working in research and development for the private sector.
The debt forgiveness in the VTPRK doesn't change the fact of salaries generally being lower in rural areas, but it does ease the decision to locate there after graduation. The program purposefully selects people like Barnhardt and Kopsa who understand the quality of life rural America offers and have a desire to return, which has been successful.
Of the 76 total VTPRK recipients, 97 percent either have or are currently fulfilling their service obligation, including 94 percent still practicing in a qualifying county after completing their four years of service. A similar program to place medical doctors in underserved areas has a success rate of about 66 percent.
NETWORK OF PEERS
While the VTPRK offers a significant financial reward, there are other benefits for student scholars as well, including externships in rural practices where they learn about small business management in addition to a network of peers.
"You can connect with former VTPRK students who are always willing to help out," Kopsa says of the real-world experience the program requires.
Barnhardt says the training aspect of VTPRK has evolved over the years into one of its stronger points, especially for established practitioners like herself who may not have a job for a recent graduate, but she says she's more likely to make a referral to a new veterinarian if they've already established a relationship.
"It's gotten tremendously better," Barnhardt says of the training and peer network development. "You'll leave with this network of peers who went to school a little bit before you and a little bit after you."
INFRASTRUCTURE ISSUE
Data compiled by a state taskforce working to address the shortage of food-animal veterinarians shows the needs vary across the state based on both population and the type of agriculture.
Just like pet owners want the best care for Fluffy or Fido, farmers and ranchers also want access to high-quality care for their livestock. A survey showed more than 90 percent of respondents in northeast Kansas used a veterinarian within 30 miles of their location. In southwest Kansas, that fell to 84 percent and 4 percent reported the nearest large-animal vet was more than 45 miles away.
Barnhardt says the shortage of vets in her portion of the state isn't just a numbers problem, it's also one of infrastructure.
"We can't just send new graduates to these areas and say, 'good luck,'" she says. "I'd love to refer cases to a clinic, but the problem is they're an hour and a half or two hours away from a clinic."
Some of that is geography, and some of that is changing how some people utilize veterinary services, like establishing relationships during the daytime before making an emergency call in the middle of the night.
"I'm not going to come out to an unfamiliar farm at 2 a.m. and feel safe meeting people for the first time and hoping they pay me," Barnhardt says. "I can't be a good vet for my clients if I'm being worn out on one-off calls in the middle of the night."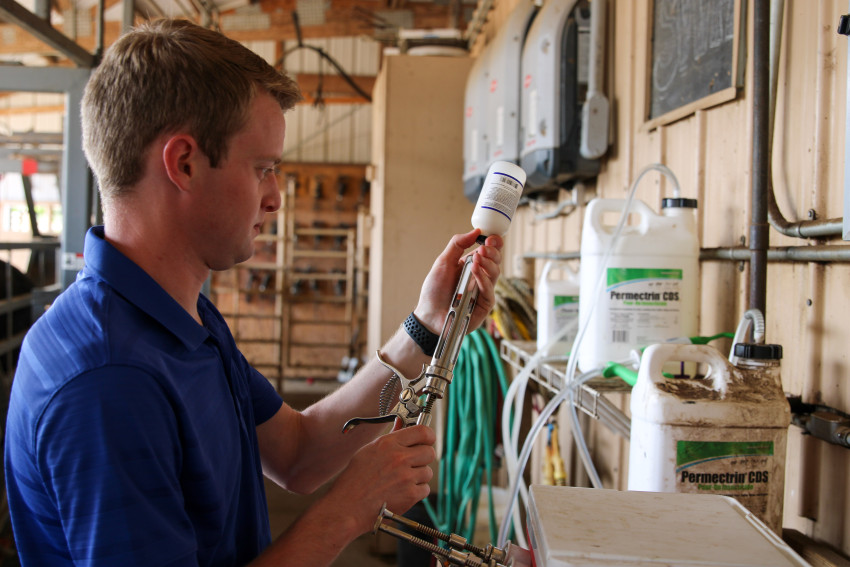 RURAL DEVELOPMENT
Barnhardt says the VTPRK is working to address the numbers side of the equation, and it's also helping on the infrastructure side by increasing the number of professionals in rural Kansas.
"A VTRPK graduate is probably married so you have two professionals moving to a rural area," she says. "My husband and I moved out here and now we have three kids. We really like the area and there's a lot of vibrancy."
She's not worried about increased competition from new veterinarians, saying there's plenty of work to go around. Instead, she wonders if the program's success means with additional investment more students would end up in rural Kansas practices.
"I wish we had more money for additional scholarships," Barnhardt says. "K-State is really putting an emphasis on accepting the right students who will go on to serve in rural Kansas."
To learn more about the VTPRK program, visit bit.ly/vtprk_ksu
_ _ _
Story via "Kansas Living Magazine", a publication of Kansas Farm Bureau.